About*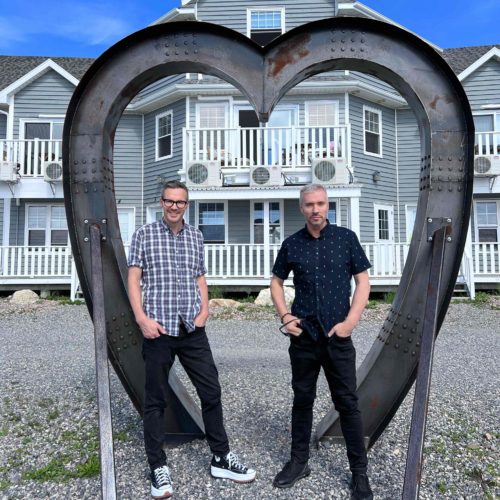 Welcome to North Star*, Louisbourg's only ocean front hotel. Arranged across five acres, the resort boasts 22 guest suites and rooms, many with ocean views, 2 restaurants, a cocktail bar and a private shingle beach.

Just a short drive from The Fortress of Louisbourg, a National Parks Canada historic site (and partial reconstruction of an 18th-century battlement) North Star* is owned and operated by international designers Colin and Justin, whose shows have aired on HGTV and Cottage Life in Canada, and on the BBC, ITV and Channel 5 in Great Britain.

Previously 'Point of View Suites', North Star* launched in 2022, its renovation documented by Warner Brothers International as a lifestyle series for Channel 5 UK, and CBC Gem in Canada. The four part documentary charts Colin and Justin's adventure as they totally re branded the hotel.

Colin and Justin, whilst based in Toronto and Glasgow during winter, are resident - on site - at North Star* during the resort's May to October operation. It is indeed their pleasure to welcome you to their – and indeed your - home from home…

North Star* delivers a friendly experience at every turn. All bedrooms feature high speed internet and cable TV, and have been thoughtfully reimagined by Colin and Justin to afford an environment that's at once relaxed and friendly. A/C units in all guest spaces moderate temperatures, even when Louisbourg's famous mist departs, and the dazzling summer sun arrives.