Dining Old
North Star* has two fully licensed restaurants: Coast and The Bothy, both of which are open to residents and non residents alike. The former serves traditional breakfasts and light snacks, each day, from 7.30am until 10.30am, and lunch from 12 noon until 2.30pm. Brunch is served on Saturdays, Sundays and Mondays until 3.00pm. Dinner is served seven days a week, from 5.30pm, with last orders taken at 9pm with live music at the weekends.
Coast
Enjoy casual daytime dining, in a brightly attired room, with décor that derives inspiration from the ocean's gentle colour palette.  Sea foam toned bead board, gnarled drift wood, softly upholstered benches and farmhouse chairs set a relaxing mood to enjoy breakfast, lunch and weekend brunch.  Early morning dining span bagels, porridge and full breakfasts, whilst lunch
 The Bothy Restaurant
Situated in an enormous steel barn, The Bothy (which means 'shelter' in Scottish) is a spectacle to behold.  Lined with rough-hewn spruce logs, the arched building has a cavernous jet toned ceiling and a huge arched window elevation, designed to resemble a British railway station from the Victorian era.
But of course the real star of the show is an exactingly prepared menu, that takes its cues from Maritime and French influences.  A mixture of locally harvested seafood, vegetables and greens conspire an exciting food offering.  From fresh lobster dishes to moist halibut, and from Boeuf Bourguignon, to Bangers and Mash (a Scottish staple) the menu also includes vegetarian and vegan options, and what many have said is the province's best chowder…
 Spirit
Spirit, the North Star* bar (set within The Bothy) serves cocktails, fine wines, spirits, a concise library of Scottish and Japanese whiskies and a selection of Irish whiskey.  Gather at the bar, or settle on a leather sofa ahead of (or after) dinner.  Or simply visit for a bottle of red wine and a delicious charcuterie board…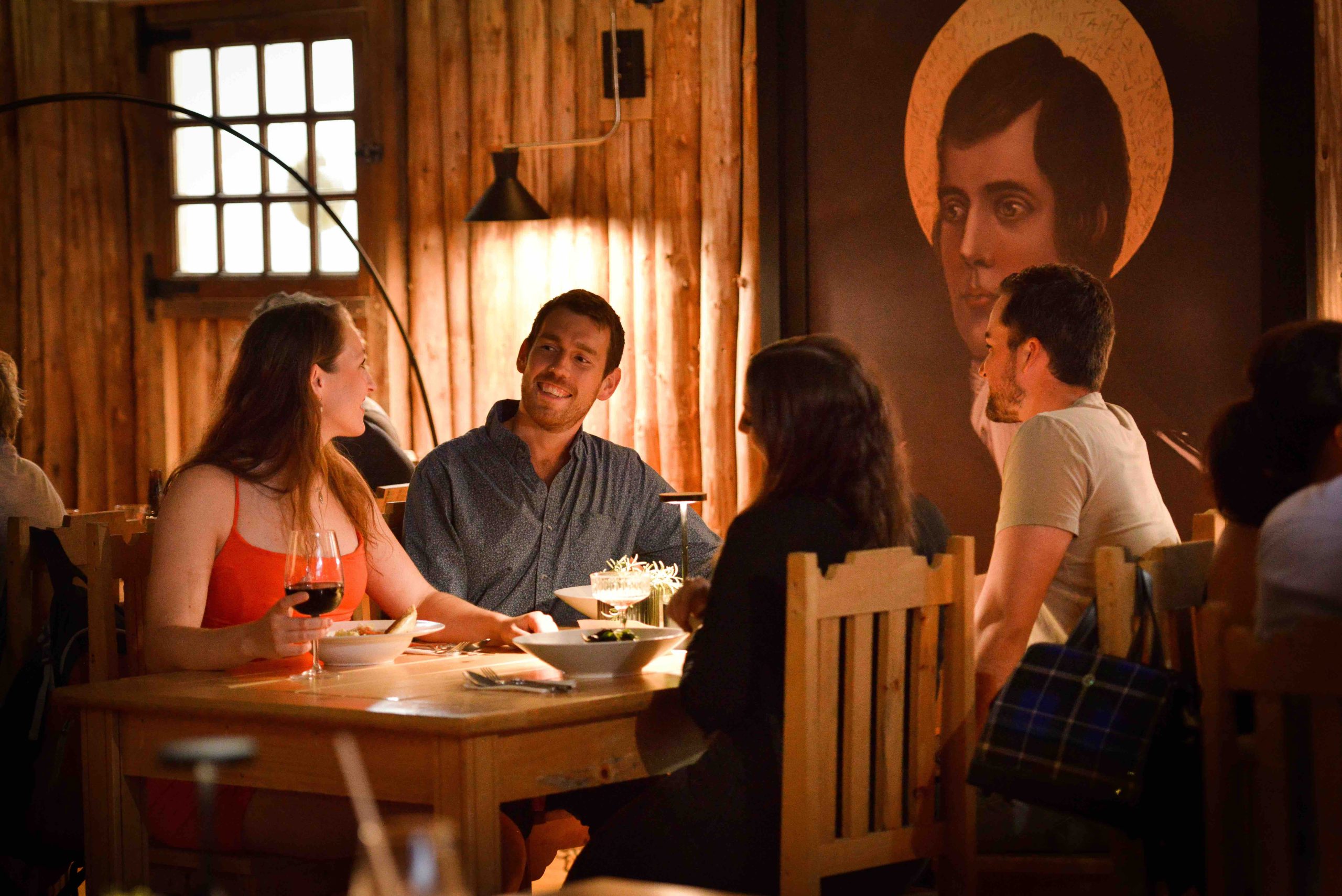 object(WP_Term)#3229 (10) { ["term_id"]=> int(10) ["name"]=> string(5) "Drink" ["slug"]=> string(5) "drink" ["term_group"]=> int(0) ["term_taxonomy_id"]=> int(10) ["taxonomy"]=> string(9) "menu_type" ["description"]=> string(0) "" ["parent"]=> int(0) ["count"]=> int(7) ["filter"]=> string(3) "raw" } object(WP_Term)#3228 (10) { ["term_id"]=> int(9) ["name"]=> string(4) "Food" ["slug"]=> string(4) "food" ["term_group"]=> int(0) ["term_taxonomy_id"]=> int(9) ["taxonomy"]=> string(9) "menu_type" ["description"]=> string(0) "" ["parent"]=> int(0) ["count"]=> int(21) ["filter"]=> string(3) "raw" } object(WP_Term)#3226 (10) { ["term_id"]=> int(13) ["name"]=> string(4) "More" ["slug"]=> string(4) "more" ["term_group"]=> int(0) ["term_taxonomy_id"]=> int(13) ["taxonomy"]=> string(9) "menu_type" ["description"]=> string(0) "" ["parent"]=> int(0) ["count"]=> int(5) ["filter"]=> string(3) "raw" } array(7) { [0]=> object(WP_Post)#3216 (24) { ["ID"]=> int(210) ["post_author"]=> string(1) "1" ["post_date"]=> string(19) "2022-08-03 18:05:18" ["post_date_gmt"]=> string(19) "2022-08-03 18:05:18" ["post_content"]=> string(0) "" ["post_title"]=> string(14) "The Full Monty" ["post_excerpt"]=> string(0) "" ["post_status"]=> string(7) "publish" ["comment_status"]=> string(6) "closed" ["ping_status"]=> string(6) "closed" ["post_password"]=> string(0) "" ["post_name"]=> string(10) "fishbowl-5" ["to_ping"]=> string(0) "" ["pinged"]=> string(0) "" ["post_modified"]=> string(19) "2023-02-07 15:24:02" ["post_modified_gmt"]=> string(19) "2023-02-07 15:24:02" ["post_content_filtered"]=> string(0) "" ["post_parent"]=> int(0) ["guid"]=> string(52) "https://hellonorthstar.ca/?post_type=menu&p=210" ["menu_order"]=> int(17) ["post_type"]=> string(4) "menu" ["post_mime_type"]=> string(0) "" ["comment_count"]=> string(1) "0" ["filter"]=> string(3) "raw" } [1]=> object(WP_Post)#3213 (24) { ["ID"]=> int(213) ["post_author"]=> string(1) "1" ["post_date"]=> string(19) "2022-08-03 18:05:17" ["post_date_gmt"]=> string(19) "2022-08-03 18:05:17" ["post_content"]=> string(0) "" ["post_title"]=> string(15) "The Early Riser" ["post_excerpt"]=> string(0) "" ["post_status"]=> string(7) "publish" ["comment_status"]=> string(6) "closed" ["ping_status"]=> string(6) "closed" ["post_password"]=> string(0) "" ["post_name"]=> string(10) "fishbowl-2" ["to_ping"]=> string(0) "" ["pinged"]=> string(0) "" ["post_modified"]=> string(19) "2023-02-07 15:23:46" ["post_modified_gmt"]=> string(19) "2023-02-07 15:23:46" ["post_content_filtered"]=> string(0) "" ["post_parent"]=> int(0) ["guid"]=> string(52) "https://hellonorthstar.ca/?post_type=menu&p=213" ["menu_order"]=> int(18) ["post_type"]=> string(4) "menu" ["post_mime_type"]=> string(0) "" ["comment_count"]=> string(1) "0" ["filter"]=> string(3) "raw" } [2]=> object(WP_Post)#3215 (24) { ["ID"]=> int(212) ["post_author"]=> string(1) "1" ["post_date"]=> string(19) "2022-08-03 18:05:17" ["post_date_gmt"]=> string(19) "2022-08-03 18:05:17" ["post_content"]=> string(0) "" ["post_title"]=> string(17) "Meat Free Wake Up" ["post_excerpt"]=> string(0) "" ["post_status"]=> string(7) "publish" ["comment_status"]=> string(6) "closed" ["ping_status"]=> string(6) "closed" ["post_password"]=> string(0) "" ["post_name"]=> string(10) "fishbowl-3" ["to_ping"]=> string(0) "" ["pinged"]=> string(0) "" ["post_modified"]=> string(19) "2023-02-07 15:25:24" ["post_modified_gmt"]=> string(19) "2023-02-07 15:25:24" ["post_content_filtered"]=> string(0) "" ["post_parent"]=> int(0) ["guid"]=> string(52) "https://hellonorthstar.ca/?post_type=menu&p=212" ["menu_order"]=> int(19) ["post_type"]=> string(4) "menu" ["post_mime_type"]=> string(0) "" ["comment_count"]=> string(1) "0" ["filter"]=> string(3) "raw" } [3]=> object(WP_Post)#3037 (24) { ["ID"]=> int(211) ["post_author"]=> string(1) "1" ["post_date"]=> string(19) "2022-08-03 18:05:17" ["post_date_gmt"]=> string(19) "2022-08-03 18:05:17" ["post_content"]=> string(0) "" ["post_title"]=> string(7) "Oatmeal" ["post_excerpt"]=> string(0) "" ["post_status"]=> string(7) "publish" ["comment_status"]=> string(6) "closed" ["ping_status"]=> string(6) "closed" ["post_password"]=> string(0) "" ["post_name"]=> string(10) "fishbowl-4" ["to_ping"]=> string(0) "" ["pinged"]=> string(0) "" ["post_modified"]=> string(19) "2023-02-07 15:26:03" ["post_modified_gmt"]=> string(19) "2023-02-07 15:26:03" ["post_content_filtered"]=> string(0) "" ["post_parent"]=> int(0) ["guid"]=> string(52) "https://hellonorthstar.ca/?post_type=menu&p=211" ["menu_order"]=> int(20) ["post_type"]=> string(4) "menu" ["post_mime_type"]=> string(0) "" ["comment_count"]=> string(1) "0" ["filter"]=> string(3) "raw" } [4]=> object(WP_Post)#3232 (24) { ["ID"]=> int(209) ["post_author"]=> string(1) "1" ["post_date"]=> string(19) "2022-08-03 18:04:59" ["post_date_gmt"]=> string(19) "2022-08-03 18:04:59" ["post_content"]=> string(0) "" ["post_title"]=> string(15) "Nova Eggs Benny" ["post_excerpt"]=> string(0) "" ["post_status"]=> string(7) "publish" ["comment_status"]=> string(6) "closed" ["ping_status"]=> string(6) "closed" ["post_password"]=> string(0) "" ["post_name"]=> string(8) "fishbowl" ["to_ping"]=> string(0) "" ["pinged"]=> string(0) "" ["post_modified"]=> string(19) "2023-02-07 15:27:24" ["post_modified_gmt"]=> string(19) "2023-02-07 15:27:24" ["post_content_filtered"]=> string(0) "" ["post_parent"]=> int(0) ["guid"]=> string(52) "https://hellonorthstar.ca/?post_type=menu&p=209" ["menu_order"]=> int(21) ["post_type"]=> string(4) "menu" ["post_mime_type"]=> string(0) "" ["comment_count"]=> string(1) "0" ["filter"]=> string(3) "raw" } [5]=> object(WP_Post)#3225 (24) { ["ID"]=> int(208) ["post_author"]=> string(1) "1" ["post_date"]=> string(19) "2022-08-03 18:04:37" ["post_date_gmt"]=> string(19) "2022-08-03 18:04:37" ["post_content"]=> string(0) "" ["post_title"]=> string(13) "Nova Omelette" ["post_excerpt"]=> string(0) "" ["post_status"]=> string(7) "publish" ["comment_status"]=> string(6) "closed" ["ping_status"]=> string(6) "closed" ["post_password"]=> string(0) "" ["post_name"]=> string(19) "grand-slam-burger-3" ["to_ping"]=> string(0) "" ["pinged"]=> string(0) "" ["post_modified"]=> string(19) "2023-02-07 15:28:35" ["post_modified_gmt"]=> string(19) "2023-02-07 15:28:35" ["post_content_filtered"]=> string(0) "" ["post_parent"]=> int(0) ["guid"]=> string(52) "https://hellonorthstar.ca/?post_type=menu&p=208" ["menu_order"]=> int(22) ["post_type"]=> string(4) "menu" ["post_mime_type"]=> string(0) "" ["comment_count"]=> string(1) "0" ["filter"]=> string(3) "raw" } [6]=> object(WP_Post)#3219 (24) { ["ID"]=> int(207) ["post_author"]=> string(1) "1" ["post_date"]=> string(19) "2022-08-03 18:04:37" ["post_date_gmt"]=> string(19) "2022-08-03 18:04:37" ["post_content"]=> string(0) "" ["post_title"]=> string(23) "Bagel with Cream Cheese" ["post_excerpt"]=> string(0) "" ["post_status"]=> string(7) "publish" ["comment_status"]=> string(6) "closed" ["ping_status"]=> string(6) "closed" ["post_password"]=> string(0) "" ["post_name"]=> string(19) "grand-slam-burger-4" ["to_ping"]=> string(0) "" ["pinged"]=> string(0) "" ["post_modified"]=> string(19) "2023-02-07 18:41:45" ["post_modified_gmt"]=> string(19) "2023-02-07 18:41:45" ["post_content_filtered"]=> string(0) "" ["post_parent"]=> int(0) ["guid"]=> string(52) "https://hellonorthstar.ca/?post_type=menu&p=207" ["menu_order"]=> int(23) ["post_type"]=> string(4) "menu" ["post_mime_type"]=> string(0) "" ["comment_count"]=> string(1) "0" ["filter"]=> string(3) "raw" } }